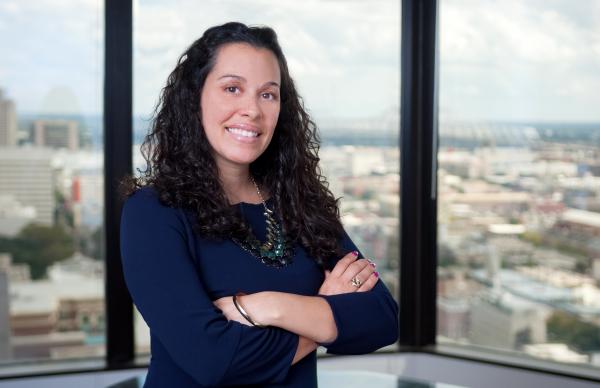 Shannon A. Shelton
Attorney
Shannon A. Shelton is an attorney in Pendley, Baudin & Coffin, L.L.P.'s New Orleans office. She joined the firm in August 2018. Mrs. Shelton's main practice areas are comprised of complex litigation involving Medicare Secondary Payer Act compliance, pharmaceutical litigation, consumer fraud, and antitrust and RICO claims.
Mrs. Shelton earned her B.A., cum laude, in Psychology and Sociology, with a minor in English Writing, from Loyola University New Orleans. Shannon earned her J.D., magna cum laude, from Loyola University New Orleans College of Law where she was a member of the Loyola Law Review and a William L. Crowe Sr. Scholar. While at Loyola, Mrs. Shelton was inducted into the Order of Barristers and actively participated as a member of the Moot Court and Trial Advocacy Programs. Mrs. Shelton was also honored as an Outstanding Advocate at the 19th Annual Chief Judge Conrad B. Duberstein National Bankruptcy Memorial Moot Court Competition and was the Loyola University New Orleans College of Law 2009 recipient of the Edna S. Burkhalter Award for Outstanding Oral Ability. Mrs. Shelton was also a judicial intern for Judge Nannette Jolivette Brown of the United States District Court for the Eastern District.
Prior to joining Pendley, Baudin & Coffin, L.L.P., Mrs. Shelton's litigation practice included energy, environmental, commercial, Medicare compliance, and construction matters. Mrs. Shelton primarily represented and defended Fortune 10 energy companies in disputes involving toxic tort exposure, personal injury from Naturally Occurring Radioactive Material (NORM), oil field legacy sites, wetlands loss, and environmental contamination. She counseled and advised global energy companies and national chemical companies with settlement and litigation issues related to Medicare reporting and compliance obligations, including evaluation of Medicare's potential interest in settlement funds or personal injury awards paid to plaintiffs; evaluation of Section 111 registration and reporting obligations; identification and minimization of risks of future Medicare-related claims, penalties, and fines stemming from payments to Medicare beneficiaries; and resolution of healthcare lien obligations.
Mrs. Shelton has handled every level of trial advocacy, including federal jury trial opening and closing statements, cross examination of fact and expert witnesses, as well as summary judgment hearings.
Mrs. Shelton was also selected for inclusion in the 2019 edition of Louisiana Rising Stars by Super Lawyers®.
REPRESENTATIVE EXPERIENCE
Served as First Chair Trial Attorney to a major oil and gas company in personal injury premises liability litigation, taking the case to jury verdict

Local counsel for national onshore and offshore electrical generation equipment manufacturers

Counsel and advise global energy companies regarding Section 111 of the Medicare, Medicaid and SCHIP Extension Act (MMSEA) compliance in mass tort and personal injury matters

Representation of a joint defense group of oil and gas companies in NORM personal injury and property damage class action and mass joinder cases

Representation of energy companies in lawsuits seeking damages fear of contracting cancer, increased risk of contracting cancer, and/or medical monitoring damages based on alleged toxic exposures at former industrial sites

Representation of global energy company in class action litigation alleging personal injuries from toxic exposures to Naturally Occurring Radioactive Material (NORM)

Representation of major oil and gas companies in lawsuits alleging that soil, sediment, groundwater, drinking water, and other types of environmental contamination were caused by oil and gas exploration and production activities, gas processing/midstream operations, and refining operations throughout Louisiana

Representation of major oil and gas companies in oil field legacy cases involving Louisiana Act 312, as well as claims for alleged breaches of mineral leases, surface leases, and the Louisiana Mineral Code

Representation of major oil and gas company in cases involving land loss and subsidence asserted under the Louisiana Coastal Zone Management Act

Representation of major oil and gas company in connection with claims of environmental property damage related to exploration and production activities

Representation of international company specializing in on/off loading of seagoing vessels, especially containerized freight, in personal injury longshore litigation related to incidents occurring on docks of New Orleans

Representation of major oil and gas company in personal injury premises liability litigation

Representation of local commercial general contractor in large contract litigation and defended client in breach of workmanlike performance claim

Representation of local restaurant owner in commercial construction contract litigation

Representation of Wisconsin-based flooring manufacturer in redhibition and products liability litigation

Representation of local funeral home in fraud and breach of contract litigation

Representation of national transportation rental company in litigation involving claims of alleged personal injury and property damage          
COMMUNITY SERVICE
Volunteer, Loyola University New Orleans College of Law Moot Court Program (2009 – present)

Guest Judge, Regional Rounds for New York City Bar's 67th Annual National Moot Court Competition (2016)

Panelist, Loyola University New Orleans College of Law Professional Success and Networking for Part-Time Students (2015)

Co-Chair, New Orleans Bar Association's Approach the Bench CLE Series (2013)

Panelist, Louisiana State Bar Association's Law School Professionalism Orientation (2013)

Past Volunteer, Homeless Experience Legal Protection (H.E.L.P)

Past Volunteer Judge, Judge Richard N. Ware IV Memorial Statewide High School Mock Trial Competition (2012, 2013)

Past Volunteer, LSBA/JTBP Suit Up for the Future High School Legal Institute & Internship Program
Education & Professional Background
Loyola University of New Orleans, College of Law (J.D. 2012)
Loyola University of New Orleans (B.A. 2002)
Admissions
State Bar of Louisiana
United States District Courts for the Eastern District of Louisiana
United States District Courts for the Middle District of Louisiana
United States District Courts for the Western District of Louisiana
United States District Court for the Northern District of Illinois
United States Fifth Circuit Court of Appeal
Activities & Affiliations
Louisiana State Bar Association
New Orleans Bar Association
New Orleans Association for Women Attorneys
Publications, Presentations & Interviews
CMS Recovery and Reporting Thresholds, Louisiana Law Blog, January 17, 2017
Presenter, Medicare Reporting and Reimbursement Compliance, KM Risk Management Briefing (2016)
Medicare's Commercial Repayment Center Means Business: Swift Deadlines on Conditional Payment Notices and Demand Letters, Louisiana Law Blog, September 6, 2016
Presenter, How to Keep Medicare from Calling After Settlement, Stay Out of Hot Water in Louisiana CLE and CE (Texas) (2016)
Presenter, E-Discovery 101, Continuing Legal Education Seminar (2014)
21st Century Professionalism Issues – The Impact of Bias & Inclusion At Home & Abroad, Louisiana State Bar Association (2013)